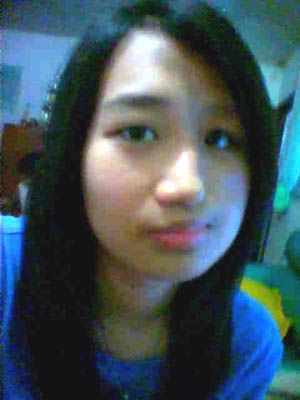 i just had my haircut. mejo mabigat sa ulo pero ayus lang.
1st week of school is over and i've met all my teachers.
mrs. almayda - homeroom/math teacher.
she's my admath teacher last year. and when she said that we're all going to pass because she's our teacher and she won't let us down. i said to mysel "yes, papasa na ako". last year's 4th year physci teacher is ms.diaz. good thing mrs/almayda is now ou teacher. soobrang laf3p and carefree kaso mabilis nga lang magturo.
mrs. clerigo - physics teacher.
she said, "you don't need to memorize formulas, all you need is to know the principle". she's great and napakagaling magturo. you'll never get bored.minsan nga lang nakkatakot kasi baka tawagin ka then you won't know the answer. di ba?? and she calls us engeng kapag mali sagot namen. but she said that we're not suppose to get offended by it because it really does not mean that we're dumb. besides bagay naman daw sa min kasi engineering daw kame. e di eng-eng. tawa lang kame..
mr. saria - anageom teacher
yes. i'm glad that he's my teacher kasi kahit papaano papasa naman siguro. unlike last year si mr. abrillo sa 4th year physci. my prom partner said that he really fails you if he want to. many students were removed from the honor roll because he failed them. so ngayun, at least pede naman siguro pakiusapan.
ms.elgario - english teacher
and slash my club moderator. depende pa if we don't change our minds in transferring. hehe. she's good, just by the way she speaks. isa lang ang sinasabi "MAGALING TONG TEACHER NA ITO". and hopefully i'm right. i shoukd watch my words and grammar around her.
mr.mancao - cve teacher.
ang dameng pinapagawa. actually hindi madame. mejo mahirap lang nung iba kasi he really wants REFLECTION. and for someone like me? baka mahirapan ako.. haha.. i'm looking forward to those anti=boredom activities he's preparing..
ms.miranda - filipino teacher
slash my teacher too last year. she should be our adviser kaso kinuha ng medsci. haha! we were joking about it last year. she said that she wants to be our advise and the whole class erupted with noise of happiness. but mrs.almayda is not that bad.looking forwar for my merits..
ms.aguas - prac.arts teacher
i thought she is so strict hindi pala. she smiles kapag hindi namin lam nung mga bagay-bagay. we're taking programming again. so abanga nio na future program ko. haha! as if. i thinkshe's good. she kind of made programming so interesting for me. last year qb sucked so much.. this year we're taking visual basic..
mr.caballero - social studies
slash our prefect. haha! last year marshall law kame sa knia pero ngayun tahimik na kame.. he really enjoys economics. and i wish i could. haha
ms. portillano - health teacher.
i think she's also your health teacher. as everyone else. mas mabait na xa kesa nung 2nd year. haha!!
ms.caramol - physical ed. teacher.
my friends hate her because they say she gives low grades. paano nangyari un? i even received 99 from her when i was in first year. 99 or 98. then they're saying na mababa magbigay? haha. they want ms.bracamonte but i think i prefer ms. caramol. yata. not unless something changes my mine. on-leave si ms.caramol e.
kung may na-miss pa ako sorry na lang. so there. andami pang homeworks..sige till here muna. i'm not feeling well again. it's something inside...
and anyhow. i think i just made another mistake in my oh-so-called life.